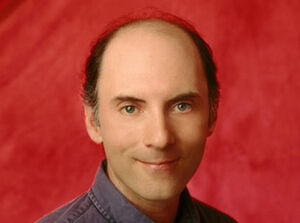 Daniel Louis "Dan" Castellaneta' (born October 29, 1957) is an American actor, voice actor, comedian and screenwriter. Noted for his long-running role as Homer Simpson on the animated television series The Simpsons, he voices many other characters on The Simpsons, including Abraham "Grampa" Simpson, Barney Gumble, Krusty the Clown, Groundskeeper Willie, Mayor Quimby and Hans Moleman.
Born in Oak Park, Illinois, a suburb of Chicago, Castellaneta started taking acting classes at a young age. He would listen to his father's comedy records and do impressions of the artists. After graduating from Northern Illinois University, Castellaneta joined Chicago's Second City in 1983, and performed with the troupe until 1987. He was cast in The Tracey Ullman Show, which debuted in 1987. The Tracey Ullman Show included a series of animated shorts about a dysfunctional family. Voices were needed for the shorts, so the producers decided to ask Castellaneta to voice Homer. His voice for the character started out as a loose impression of Walter Matthau, but later evolved into a more robust voice. The shorts would eventually be spun off into The Simpsons. Castellaneta has won four Primetime Emmy Awards for Outstanding Voice-Over Performance for his work on the show as well as an Annie Award for Outstanding Individual Achievement in the Field of Animation in 1993. Castellaneta has co-written four episodes of The Simpsons with his wife Deb Lacusta.
Castellaneta has also had roles in several other television programs, including the live-action sitcom Sibs, The Adventures of Dynamo Duck, and the animated series Back to the Future: The Animated Series, Earthworm Jim, Aladdin, Hey Arnold!, Darkwing Duck and Cow and Chicken. In 1999, he appeared in the Christmas special Olive, the Other Reindeer and won an Annie Award for his portrayal of the Postman. Castellaneta has also released a comedy CD, I Am Not Homer, and wrote and starred in a one-person show titled Where Did Vincent van Gogh?
Career
[
]
Early Career
[
]
Castellaneta was born in Oak Park, Illinois, a suburb of Chicago, on October 29, 1957, to Elsie and Louis Castellaneta. His father was an amateur actor who worked for a printing company. Castellaneta became adept at impressions at a young age and his mother enrolled him in an acting class when he was sixteen years old. He would listen to his father's comedy records and do impressions of the artists. He was a "devotee" of the works of many performers, including Alan Arkin and Barbara Harris and directors Mike Nichols and Elaine May. He attended Oak Park and River Forest High School and upon graduation, started attending Northern Illinois University (NIU) in the fall of 1975. He studied art education, with the goal of becoming an art teacher. He became a student teacher and would entertain his students with his impressions. Castellaneta was also a regular participant in The Ron Petke and His Dead Uncle Show, a radio show at NIU. The show helped Castellaneta hone his skills as a voice-over actor. He recalled "We did parodies and sketches, we would double up on, so you learned to switch between voices. I got my feet wet doing voiceover. The show was just barely audible, but we didn't care. It was the fact that we got a chance to do it and write our own material." He took a play-writing class and auditioned for an improvisational show. A classmate first thought Castellaneta would "fall on his face with improvisation" but soon "was churning out material faster than [they] could make it work."
Castellaneta started acting after his graduation from Northern Illinois University in 1979. He decided that if his career went nowhere he would still have a chance to try something else. He began taking improvisation classes, where he met his future wife Deb Lacusta. Castellaneta started to work at The Second City, an improvisational theatre in Chicago, in 1983 and continued to work there until 1987. During this period, he did voice-over work with his wife for various radio stations. He auditioned for a role in The Tracey Ullman Show and his first meeting underwhelmed Tracey Ullman and the other producers. Ullman decided to fly to Chicago to watch Castellaneta perform. His performance that night was about a blind man who tries to become a comedian and Ullman later recalled that although there were flashier performances that night, Castellaneta made her cry. She was impressed and Castellaneta was hired.
The Simpsons
[
]
Castellaneta is most famous for his role as Homer Simpson on the long-running animated television show The Simpsons. The Tracey Ullman Show included a series of animated shorts about a dysfunctional family. Voices were needed for the shorts, so the producers decided to ask Castellaneta and fellow cast member Julie Kavner to voice Homer and Marge Simpson rather than hire more actors. Homer's voice began as a loose impression of Walter Matthau, but Castellaneta could not "get enough power behind that voice" and could not sustain his Matthau impression for the nine- to ten-hour long recording sessions. He tried to find something easier, so he "dropped the voice down", and developed it into a more versatile and humorous voice during the second and third season of the half-hour show. Castellaneta's normal speaking voice has no similarity to Homer's. To perform Homer's voice, Castellaneta lowers his chin to his chest, and is said to "let his IQ go." Castellaneta likes to stay in character during recording sessions, and tries to visualize a scene in his mind so that he can give the proper voice to it. Despite Homer's fame, Castellaneta claims he is rarely recognized in public, "except, maybe, by a die-hard fan."
Castellaneta also provides the voices for numerous other characters, including Grampa Simpson, Barney Gumble, Krusty the Clown, Groundskeeper Willie, Mayor Quimby, Hans Moleman, Sideshow Mel, Itchy, Kodos, the Squeaky Voiced Teen and Gil Gunderson.
Castellaneta has won several awards for voicing Homer, including four Primetime Emmy Awards for "Outstanding Voice-Over Performance" in 1992 for "Lisa's Pony", 1993 for "Mr. Plow", 2004 for voicing several characters in "Today I Am a Clown", and 2009 for voicing Homer in "Father Knows Worst". In 1993, Castellaneta was given a special Annie Award, "Outstanding Individual Achievement in the Field of Animation", for his work as Homer on The Simpsons. In 2004, Castellaneta and Julie Kavner (the voice of Marge) won a Young Artist Award for "Most Popular Mom & Dad in a TV Series". Homer was placed second on TV Guide's 2002 Top 50 Greatest Cartoon Characters, and in 2000, Homer and the rest of the Simpson family were awarded a star on the Hollywood Walk of Fame located at 7021 Hollywood Boulevard.
Further Career
[
]
Castellaneta has been a regular cast member in several other television series. In 1991, he played Warren Morris in the short-lived ABC live-action sitcom Sibs. Heide Perlman, creator of Sibs, wrote the part with Castellaneta in mind. He also provided the voice of the eponymous character in The Adventures of Dynamo Duck, Megavolt in Darkwing Duck, "Doc" Emmett Brown in Back to the Future: The Animated Series, the lead character in Earthworm Jim and several characters, including Grandpa Phil and the mentally unstable ice cream truck driver, on Nickelodeon's Hey Arnold!. He guest starred as The Robot Devil in three episodes of Futurama, as well as the film The Beast with a Billion Backs.
Castellaneta has also made guest appearances in a number of television series episodes. In 1992, he guest-starred in an episode of the legal drama L.A. Law, as a Homer Simpson meetable character at a California amusement park who is dismissed for inappropriate behavior while in costume. In 2005, he appeared in the episode "Sword of Destiny" in Arrested Development as Dr. Stein, a deadpan incompetent doctor. In 2005, Castellaneta guest-starred as Joe Spencer in the Stargate SG-1 season eight episode "Citizen Joe". He also appeared in episodes of ALF, Campus Ladies, Castle, Entourage, Everybody Loves Raymond, Frasier, Friends, Greek, How I Met Your Mother, Mad About You, Married... with Children, Murphy Brown, NYPD Blue, Parks and Recreation, Reba, Reno 911!, That '70s Show, Veronica Mars, Yes, Dear, and Desperate Housewives.
He appeared as the Genie in the Aladdin sequel The Return of Jafar and on the 1994 Aladdin television series. The Genie has been voiced by Robin Williams in Aladdin, and Castellaneta described replacing him as "sort of like stepping into Hamlet after Laurence Olivier did it, how can you win?" He also provided Gene's voice in the Kingdom Hearts video game series. [8] Castellaneta portrayed Aaron Spelling in the 2004 NBC film Behind the Camera: The Unauthorized Story of Charlie's Angels, which followed the true story of how Spelling created the show. Other films in which Castellaneta has appeared include Nothing in Common, Say Anything..., Super Mario Bros., The Client, Space Jam, My Giant, Rugrats in Paris: The Movie, Recess: School's Out, Hey Arnold!: The Movie, The Cat in the Hat and The Pursuit of Happyness. In 2000, he won an Annie Award for his portrayal of the Postman in the animated Christmas television special Olive, the Other Reindeer. In 2006, he appeared in Jeff Garlin's independent film I Want Someone to Eat Cheese With along with several other Second City alumni.
On February 22, 2000, his first music CD Two Lips was published. It was followed on April 23, 2002 by his first comedy CD, I Am Not Homer, in which he and his wife perform several comedy skits. The majority of the sketches had been written and performed before the CD was recorded, and Castellaneta thought that it would be a good idea to preserve them "since [he and Lacusta] don't perform them much anymore." Some came from their sketch series on a local radio station in Chicago and had to be lengthened from the "two-minute bits" that they were originally, while several others were stage sketches performed in a comedy club in Santa Monica. Additionally, "Citizen Kane", a sketch in which two people discuss the film Citizen Kane with different meanings, was something the pair had performed at an art gallery. Castellaneta noted that "we already knew that these skits were funny, [but] some of them we polished and tightened." The skits were principally written by improvising from a basic point, transcribing the results and then editing them to the finished scene. Castellaneta chose the title I Am Not Homer as a parody of Leonard Nimoy's famous first autobiography I Am Not Spock, as well as to show that most of the comedy featured "is not the typical Homer comedy."
Alongside his television and film work, Castellaneta has appeared in a number of theatrical productions. In 1992, he starred in Deb & Dan's Show alongside his wife. In 1995, Castellaneta started writing Where Did Vincent van Gogh?, a one man play in which he portrays a dozen different characters, including artist Vincent van Gogh. He first officially performed the play at the ACME Comedy Theatre in Los Angeles in 1999. In 2007, he appeared in The Bicycle Men at The King's Head Theatre in London.
Filmography
[
]
Film
[
]
Year
Film
Role
Notes
1986
Nothing in Common
Brian
1989
Say Anything...
Diane's teacher
Uncredited
K-9
Maitre D'
The War of the Roses
Gavin's client
1991
Don't Tell Mom the Babysitter's Dead
Animated Mrs. Sturak
1993
Super Mario Bros.
Narrator
Credited as "Dan Castellenetta"
The Client
Slick Moeller
Love Affair
Phil
1995
Forget Paris
Man test-driving car
Uncredited
1996
All Dogs Go to Heaven 2
Tall customs dog
Space Jam
Male fan
1998
Plump Fiction
Bumpkin
Aladdin's Arabian Adventures
Genie
Vols. 1-4: Team Genie, Creatures of Invention, Magic Makers, Fearless Friends;
direct-to-video release
My Giant
Partlow
1999
The Settlement
Neal
2000
Joseph: King of Dreams
Auctioneer
Horse Trader
Direct-to-video release
Rugrats in Paris: The Movie
Priest
2001
Recess: School's Out
Guard #1
2002
Harold Buttleman, Daredevil Stuntman
Human Canonball
Return to Never Land
Additional voices
Hey Arnold!: The Movie
Grandpa Phil
Nick Vermicelli
2003
Kim Possible: The Secret Files
Drakken's Goons
Direct-to-DVD release
The Cat in the Hat
Voice of Things One and Two
Recess: Taking the Fifth Grade
BoE Agent #2
Direct-to-video release
2004
Adventures in Homeschooling
Gus Hemple
Short film
2006
I-See-You.Com
Jim Orr
I Want Someone to Eat Cheese With
Dick
Scooby-Doo! Pirates Ahoy!
Mr. Mysterio
Woodenleg Wally
Direct-to-DVD release
The Pursuit of Happyness
Alan Frakesh
2007
Hellboy Animated: Iron Shoes
Iron Shoes
Short film on DVD of Hellboy: Blood and Iron
Chasing Robert
Dan the Bookie
The Simpsons Movie
Homer Simpson
Various characters
2008
Superhero Movie
Carlson
Futurama: The Beast with a Billion Backs
The Robot Devil
Direct-to-DVD release
Immigrants (L.A. Dolce Vita)
Mr. Csapo
Dub of Hungarian film
Remembering Phil
Dr. Seymour
Horton Hears a Who!
The Wickersham Brothers
2011
Super 8
Izzy
Scratching the Surface
Mr. Edelman
2013
Poetry Contest: Poems in History
Homer Simpson (as the narrator's quotable voice)
2014
Humphrey
Humphrey (voice)
Television
[
]
Year
Series
Role
Notes
1987–1990
The Tracey Ullman Show
Various characters
Appeared in 49 episodes
1989–present
The Simpsons
Homer Simpson,
Abe Simpson,
Krusty the Clown,
Various characters
Has also written four episodes
Won four Primetime Emmy Awards
1990
ALF
Steve Michaels
Episode 4.21: "Stayin' Alive"
TaleSpin
Dr. Zibaldo
Episode 63: "The Incredible Shrinking Molly"
Bagdad Café
Gilbert
Episode 2.6: "Rainy Days and Mondays"
Working Trash
George Agrande
42nd Primetime Emmy Awards
Homer Simpson
TV special
1990, 1992
Married... with Children
Pete
Funeral Director
Episode 5.5: "Dance Show"
Episode 7.9: "Death of a Shoe Salesman"
1991
Dream On
Phil
Episode 2.3: "The 37-Year Itch"
Taz-Mania
Mister Thickley
Recurring role
Sibs
Warren Morris
Recurring role
Sesame Street
Homer Simpson
Voice; guest star (Celebrity Monster in the Mirror)
1991–1992
Darkwing Duck
Megavolt/Elmo Sputterspark
Appeared in 12 episodes
Back to the Future: The Animated Series
Dr. Emmett Brown
Appeared in all 26 episodes
1992
Lady Against the Odds
Len Chisholm
television film
Fievel's American Tails
Chula the Tarantula
Appeared in nine episodes
L.A. Law
David Champion
Episode 7.1: "L.A. Lawless"
Dinosaurs
Zabar
Episode 3.6: "Germ Warfare"
Tiny Toon Adventures
Jeffries
Harvey
Episode 3.13: "Grandma's Dead"
Episode 3.20: "It's a Wonderful Tiny Toon Christmas Special"
Goof Troop
Coach Roach
Episode 1.64: "To Catch A Goof"
1992–1997
Eek! The Cat
Mittens
Bill
Appeared in 11 episodes
1992
Animaniacs
Dracula
episode 29 Draculee Draculaa/Franken Runt
1993
The Pink Panther
Voodoo Man
Additional voices
Recurring roles
Tracey Ullman Takes On New York
Gordon
HBO one-off special
Sonic the Hedgehog
Lazaar
Episode 1.5: "Super Sonic"; uncredited
Marsupilami
Stewart
Episodes 1.7 and 1.11
1994
The Critic
Homer Simpson
Episode 1.3: "Dial 'M' for Mother"
Wings
George Wexler
Episode 5.18: "Moonlighting"
The George Carlin Show
Passenger
Episode 1.7: "George Gets Some Money"
Related by Birth
Warren Morris
Bakersfield P.D.
Darian Ferguson
Episode 1.17: "Last One Into the Water"
Street Sharks
Mega Shark Bot
Episode 1.6: "Enter Blades"
Grace Under Fire
Mr. Rudder
Episode 2.5: "Jimmy's Girl"
The Tick
Mole King
Episode 1.11: "The Tick vs. the Mole-Men"
1994–1995
Aladdin
Genie
Frajhid the Ice Efreet
Appeared in all 86 episodes
Episode 27: "Of Ice and Men"
1995
Murphy Brown
Tony Lucchesi
Episode 7.17: "Specific Overtures"
The Computer Wore Tennis Shoes
Alan Winsdale
1995–1996
Earthworm Jim
Earthworm Jim

Evil Jim

Appeared in all 23 episodes
1996-2003
Dexter's Laboratory
Additional characters
1996
The Spooktacular New Adventures of Casper
Additional voices
Friends
Zoo Janitor
Episode 2.12: "The One After the Superbowl: Part 1"
NYPD Blue
Gus
Episode 3.15: "Head Case"
Quack Pack
Additional voice
Episode 1.13: "Koi Story"
1996–2004
Hey Arnold!
Grandpa Phil
1997
Cybill
DaVolio
Episode 3.17: "Kiss Me, You Fool"
The Drew Carey Show
Stan
Episode 2.20: "Two Drews and the Queen of Poland"
Nightmare Ned
Number 1
Episode "Alien Abduction"
The Online Adventures of Ozzie the Elf
Comet & Blitzen
1997–1999
Cow and Chicken
Earl and various characters
1998
Rhapsody in Bloom
Chelton
television film
Hercules: The Animated Series
Homer the reporter
Episodes 1.18: "Hercules and the Comedy of Arrows" and 1.26: "Hercules and the Trojan War"
1998–2001
Everybody Loves Raymond
Bryan
Episodes 2.20: "T-Ball" and 6.8: "It's Supposed to Be Fun"
1998–2003
Rugrats
Jonathan
Recurring role
1999
Mad About You
Rory O'Grady
Episode 7.10: "Win a Free Car"
Johnny Bravo
Harvey
Episode 2.11: "A League of His Own/Johnny Goes to Camp/Buffoon Lagoon"
Oh, Grow Up
Sven Jorgensen
Episode 1.7: "Hunter's Metamorphosis"
Nash Bridges
Eddie Day
Episode 5.9: "Crosstalk"
Olive, the Other Reindeer
The Postman
TV special
1999–2003,
2008–2013
Futurama
Robot Devil
Episodes "Hell is Other Robots", "The Devil's Hands Are Idle Playthings", "The Beast with a Billion Backs Part 4", "Ghost in the Machines", "The Six Million Dollar Mon", and "Calculon 2.0".
2000
Buzz Lightyear of Star Command
Various characters
Appeared in eight episodes
2000, 2001
Batman Beyond
Mr. Brooks
Guard
Kobra Commado
Episode 2.13: "Terry's Friend Dates a Robot"
Episode 3.10: "The Curse of the Kobra: Part 1"
Episode 3.11: "The Curse of the Kobra: Part 2"
2001
The New Woody Woodpecker Show
Additional voice
Episode "Ya Gonna Eat That?/Chilly & Hungry/Brother Cockroach"
Yes, Dear
Walt
Episode 1.12: "Where There's a Will, There's a Waiver"
Laughter on the 23rd Floor
Milt Fields
television film
Disney's House of Mouse
Genie
Episode 1.2: "Big Bad Wolf Daddy"
2002
Jackie Chan Adventures
Jumba
Episode 2.23: "Into the Mouth of Evil"
Kim Possible
Various characters
Appeared in three episodes
2002–2003
Reba
Eugene Fisher
Episodes 2.7: "Mommy Nearest" and 2.17: "The Feud"
2003
The Pitts
Morty
Episode 1.4: "Dummy and Dummier"
All Grown Up!
Jonathan
The Adventures of Jimmy Neutron: Boy Genius
Professor Crank
Hulk Jimmy
Episode 2.5: "Operation: Rescue Jet Fusion"
Episode 3.10 "The N-Men"
The Shnookums and Meat Funny Cartoon Show
Kung-fu Trainer
Episode 1.1: "Kung-fu Kitty"
Justice League
Minister
Episodes 2.7 and 2.8: "Maid of Honor" Parts 1 and 2
Duck Dodgers
Martian sage
Football player #3
Episode 1.10: "Quarterback Quack/To Love a Duck"
Frasier
Brad
Episode 11.7: "Maris Returns"
That '70s Show
Agent Armstrong
Episode 6.5: "I'm Free"
2004
Party Wagon
Wild Bill Hickok
Clerk
Cheyenne #2
television film
Behind the Camera: The Unauthorized Story of 'Charlie's Angels'
Aaron Spelling
television film
The Jimmy Timmy Power Hour
Goddard's evil robot voice
television film
As Told by Ginger
Dave Bishop
Jeweler
Episode 3.3: "About Face"
2004
Complete Savages
Frog
Mr. Horner
Episode 1.6: "Free Lily"
2004–2008
The Batman
Arnold Wesker/Scarface
Appeared in three episodes
2005
Stargate SG-1
Joe Spencer
Episode 8.15: "Citizen Joe"
What's New, Scooby-Doo?
Officer McBride
Episode: "A Scooby-Doo Valentine"
Arrested Development
Dr. Stein
Episode 2.15: "The Sword of Destiny"
2005
Firehouse Tales
Stinky
TV series
2005
Loonatics Unleashed
College Professor
Episode 1.6: "The Comet Cometh"
2006
The Jeff Garlin Program
Ted
Veronica Mars
Dr. Kinny
Episode 3.2: "My Big Fat Greek Rush Week"
Casper's Scare School
Stretch
television film
Legion of Super Heroes
Boris
Captain Howdy
Coluans
Episode 1.4: "Fear Factory"
2006–2007
Campus Ladies
Dean Dewey
Episodes 1.7: "Safety Bathroom" and 2.7: "Safety First"
2007
Sands of Oblivion
Cecil B. DeMille
television film
Entourage
Andrew Preston
Episodes 4.2: "The First Cut Is the Deepest" and 4.7: "The Day Fuckers"
2007–2011
Greek
Dr. Milton Hastings
Appeared in nine episodes
2008
Monk
Tiny Werner
Episode 6.12: "Mr Monk Goes to the Bank"
Reno 911!
Commissioner Jerry Salerno
Episode 5.11: "Junior Runs for Office"
Relative Stranger
Gary
television film
2009
Castle
Judge Markway
Episode 1.1: "Pilot" and 1.8: "Ghosts"
Ghost Whisperer
Frank the Ghost
Episode 4.12 "The Joint's Haunted"
How I Met Your Mother
Milt
Episode 4.22: "Right Place Right Time"
Bones
Officer Novarro
Episode 5.7: "The Dwarf in the Dirt"
Desperate Housewives
Jeff Bicks
Episode 6.10: "Boom Crunch"
2010, 2012
Late Show with David Letterman
Homer Simpson
Episodes "17.69" and "20.38"
2010
Tracey Ullman's State of the Union
Agent
Episode 3.5
The Good Guys
Walter Diparko
Episode 1.7: "Hunches & Heists"
The Simpsons 20th Anniversary Special – In 3-D! On Ice!
Himself
Homer Simpson
TV special
2011
Parks and Recreation
Derry Murbles
Episodes 4.3: "Born & Raised" and 5.8: "Pawnee Commons"
2012
FOX 25th Anniversary Special
Homer Simpson
TV special
The Office
CEO of Prestige Direct Sale Solutions
Episode 8.23: "Turf War"
Family Guy
Homer Simpson
Episode 11.2: "Ratings Guy"
Video Games
[
]
The Simpsons (1991) - Homer Simpson
Playtoons No. 1: Uncle Archibald (1994) - Sneetches, In the Night Kitchen Narrator
The Simpsons Cartoon Studio (1996) - Various characters
Toonstruck (1996) - Flux Wildly
Virtual Springfield (1997) - Various characters
ClayFighter 63 1/3 (1997) - Earthworm Jim, Boogerman
Driver (1998) - Answering machine callers
Planescape: Torment (1999) - Nordom
Y2K: The Game (1999) - Additional voices
Earthworm Jim 3D (1999) - Earthworm Jim
The Simpsons Bowling (1999) - Various characters
Aladdin in Nasira's Revenge (2001) - Genie
The Simpsons Wrestling (2001) - Various characters
The Simpsons: Road Rage (2001) - Various characters
Kingdom Hearts (2002) - Genie
The Simpsons Skateboarding (2002) - Various characters
The Simpsons: Hit & Run (2003) - Various characters
Metal Arms: Glitch in the System (2003) - Krunk
Kingdom Hearts II (2005) - Genie
Cartoon Network Racing (2006) - Earl
Happy Feet (2006) - Ramon, Elephant seal #1
The Simpsons Game (2007) - Various characters
Kingdom Hearts Re:Chain of Memories (2008) - (Archived voice acting)
BioShock (2007) - Toasty splicer
Bioshock 2 (2010) - Toasty splicer
Kingdom Hearts HD 1.5 Remix (2013) - Genie