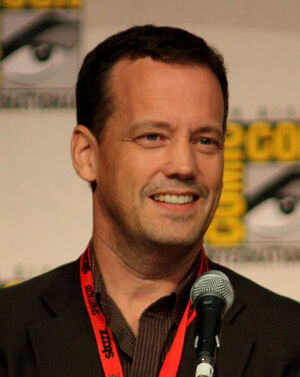 Dee Bradley Baker (born August 31, 1962) is an American actor, voice actor, singer, and comedian. Along with voicing human characters such as Dad from Cow and Chicken, Numbuh 4 from Codename: Kids Next Door, and Og from Mike, Lu and Og, Baker is also well known for his vocal effects which he uses to provide the noises made by animals, monsters, and creatures in many animated series, movies, and video games.
Career
[
]
In addition to voice acting credits, Baker has appeared on game shows such as Legends of the Hidden Temple, which was also his debut in voice acting (credited as "Dee Baker") and Shop 'til You Drop. In 1999, he voiced "Pig George" in the movie My Brother the Pig. In 2007, he provided the voice of Captain Jack Sparrow's talking parrot in the newly refurbished Pirates of the Caribbean rides at Disneyland and the Magic Kingdom.
He is most known for his voice acting roles such as: Appa, Momo and various other voices in the series Avatar: The Last Airbender, and as Naga, Pabu, Oogi, and council member Tarrlok for the sequel series The Legend of Korra; the Clone Troopers in the TV series Star Wars: The Clone Wars; most of Ben's aliens in Ben 10: Alien Force, Ben 10: Ultimate Alien and Ben 10: Omniverse; Dad in Cow and Chicken; Klaus Heissler in American Dad; Og in Mike, Lu and Og; Sanjay, Binky and numerous other characters in Fairly Oddparents; Turner in Handy Manny; Ace Palmero and Johnny Hitswell in The Replacements; Perry the Platypuss in Phineas and Ferb; Dr. Curt Conners "The Lizard" in The Spectacular Spider-Man; Nightcrawler in the video game X-Men Legends; Numbuh 4 in Codename: Kids Next Door; and Pierre Parrot in Talking Friends.
Film
[
]
Year
Title
Role
Notes
1992
Porco Rosso (English version 2003)
Voice only
1995
Repentance
Matthew
Short film
No Smoking
Dad
1996
Space Jam
Daffy Duck
Tazmanian Devil
Bull
Voice only
1997
A Rat's Tale
Monty Mad-Rat Jr.
Voice only
1998
The Jungle Book: Mowgli's Story
Bee
Elephant
Baboon
Voice only
Direct-to-video
Zoomates
Zookeeper
Vendor
Guy #2
Voice only
Short film
The Wacky Adventures of Ronald McDonald: Scared Silly
Sundae
Voice only
Direct-to-video
Short film
An All Dogs Christmas Carol
the Fire Imps
Voice only
Direct-to-video
1999
The Wacky Adventures of Ronald McDonald: The Legend of Grimace Island
Sundae
Voice only
Direct-to-video
Short film
My Brother the Pig
Pig George
Voice only
Alvin and the Chipmunks Meet Frankenstein
Tour Guide
Voice only
Direct-to-video
The Wacky Adventures of Ronald McDonald: The Visitors from Outer Space
Sundae
Voice only
Direct-to-video
Short film
2000
Tom Sawyer
Rebel
Voice only
Direct-to-video
2000
The Little Mermaid II: Return to the Sea
Cloak and Dagger
Voice only
Direct-to-video
2001
The Trumpet of the Swan
Louie
Voice only
The Wacky Adventures of Ronald McDonald: Birthday World
Sundae
TV Monitor
Voice only
Direct-to-video
Short film
Jimmy Neutron: Boy Genius
Norad Officer
Voice only
2002
The Powerpuff Girls Movie
Pappy Wappy
Tonsa Muncha
Rolla Ova
Bongo Bango
Whacko Smacko
Unnamed newscaster
Screaming telephone man
Voice only
The Wacky Adventures of Ronald McDonald: Have Time, Will Travel
Sundae
TV Monitor
Voice only
Direct-to-video
Short film
Dan Danger
Dan Danger
Voice only
2003
The Wacky Adventures of Ronald McDonald: The Legend of McDonald-Land Loch
Sundae
Voice only
Direct-to-video
Short film
George of the Jungle 2
Water Buffalo
Little Monkey
Voice only
Direct-to-video
Stitch! The Movie
David Kawena
Voice only
Direct-to-video
2004
50 First Dates
Man at the restaurant
uncredited
Scooby-Doo 2: Monsters Unleashed
10,000 Volt Ghost
Zombie
Red Eye Skeleton
Voice only
My Generation G... G... Gap
Voice only
Short film
The Spongebob SquarePants Movie
Man Cop
Phil
Perch Perkins
Voice only
2005
The Toy Warrior
Voice only
War of the Worlds
Alien Vocals
Voice only
Inside Walt's Story Meetings
Perce Pearce
Voice only
Direct-to-video
Aloha, Scooby-Doo!
Tiny Tiki
Surfer on Bike
California Surfer Dude
Local Guy #1
Wild Pig
Gecko
Flame Thrower
Voice only
Direct-to-video
Here Comes Peter Cottontail: The Movie
Chunk
Voice only
Direct-to-video
Thru the Moebius Strip
Talking Head
Voice only
2006
Ultimate Avengers
Additional voices
Voice only
Direct-to-video
Asterix and the Vikings
Dogmatix
SMS
Voice only
English dub
Choose Your Own Adventure: The Abominable Snowman
Bucky
Voice only
Direct-to-video
Holly Hobbie and Friends: Christmas Wishes
Willie Scranton
Doodles
Cheddar
Bonnet
Cider
Voice only
Direct-to-video
Short film
Mickey Saves Santa and Other Mouseketales
Various
Voice only
Direct-to-video
Happy Feet
Maurice
Voice only
2007
Holly Hobbie and Friends: Secret Adventures
Doodles
Bonnet
Cider
Coyote
Squirrel
Owl
Raccoon
Voice only
Direct-to-video
Short film
TMNT
Additional voices
Voice only
Mickey's Treat
Wise Owl
Others
Voice only
Direct-to-video
Holly Hobbie and Friends: Best Friends Forever
Willie Scranton
Bonnet
Doodles
Cheddar
Voice only
Direct-to-video
Short film
2008
Dragonlance: Dragons of Autumn Twilight
Pyros
Voice only
Direct-to-video
My Friends Tigger & Pooh's Friendly Tails
Buster
Voice only
Direct-to-video
Star Wars: The Clone Wars
Clone Troopers
Captain Rex
Cody
Voice only
My Friends Tigger and Pooh: The Hundred Acre Wood Haunt
Buster
Voice only
Direct-to-video
Beethoven's Big Break
Animal Voices
Voice only
Direct-to-video
2009
Tigger & Pooh and a Musical Too
Buster
Voice only
Direct-to-video
G-Force
Mooch
Voice only
Bionicle: The Legend Reborn
Skrall
Bone Hunters
Vorox
Voice only
Direct-to-video
Mickey's Adventures in Wonderland
Various
Voice only
Direct-to-video
The Haunted World of El Superbeasto
Nazi Zombie
Voice only
Astro Boy
Trashcan
Voice only
2010
Waiting for Goldblum
Voice only
Short film
Scooby-Doo! Abracadabra-Doo
Sherman
Voice only
Direct-to-video
Astro Boy vs. The Junkyard Pirates
Trashcan
Voice only
Direct-to-video
Short film
Furry Vengeance
Animal Voice Effects
Voice only
Scooby-Doo! Camp Scare
Ranger Knudsen
Woodsman
Fishman
Specter
Voice only
Direct-to-video
Family Guy Presents: It's a Trap
Klaus Heissler as Admiral Ackbar
Voice only
Direct-to-video
2011
Star Tours: The Adventures Continue
Boba Fett
Voice only
Short film
Phineas and Ferb the Movie: Across the 2nd Dimension
Perry the Platypus
Perry the Platyborg
Additional Voices
Voice only
Direct-to-video
Abduction
ADR Cast
Voice only
Live-action film
Beethoven's Christmas Adventure
Animal Sounds
Voice only
Direct-to-video
2012
Justice League: Doom
Officer in Charge
Newscaster
Voice only
Direct-to-video
Frankenweenie
Persephone
Shelly
Colossus
Mr. Whiskers
Voice only
2013
Justice League: The Flashpoint Paradox
Etrigan the Demon
Top
Canterbury Cricket
Voice only
Direct-to-video
Scooby-Doo! Adventures: The Mystery Map
Ye Phantom Parrot
Stu
Voice only
Direct-to-video
Khumba
Meerkat Father / Dassies
Voice only
Iron Man & Hulk: Heroes United
Zzzax
Voice only
Direct-to-video
Television
[
]
Year
Title
Role
Notes
1993–1995
Legends of the Hidden Temple
Announcer
Olmec
Voice only
1995
Timon & Pumbaa
Paperboy
Voice only
1995–1999
Cow and Chicken
Dad
Boy
Reporter
Voice only
1996-2004
Hey Arnold!
Boy in the park
Man scaring off Arnold
Caesar
Third grader in "Arnold Betrays Iggy"
Boy being thrown in the dump
Voice only
1996–1997
The Real Adventures of Jonny Quest
Dr. Vedder
Williams
Voice only
1997
Spider-Man
Keene Marlow
Young Destroyer
Voice only
Rugrats
Mr. Turkey
Voice only
Extreme Ghostbusters
Additional vocies
Voice only
1997–1998
Jungle Cubs
Bagheera
Voice only
1997–1998, 2000–2002
Shop 'til You Drop
Announcer
Co-Host
Voice only
1997–1999
The Angry Beavers
Announcer
Gary the Mongoose
Squirrel
Voice only
1997–2004
Johnny Bravo
Cop #1
Agent Pim
Ambulance Driver
German Inventor
Voice only
1998
Men in White
Television film
The Lionhearts
Voice only
1998–1999
I Am Weasel
Cow & Chicken's Dad
Dad
Grampa
Voice only
1998–2000
The Wild Thornberrys
Crocodile #1
Elephant
Kix, Macqaque Wallah
Voice only
1999
Uncle Gus in: For the Love of Monkeys
Beeyolus
Voice only
Television short film
The Journey of Allen Strange
Phil Berg
Live-action
Good vs Evil
C. Arthur Troust
Voice only
1999–2000
Mike, Lu & Og
Og
Goat
Voice only
1999–2005
The Powerpuff Girls
Monster #1
Announcer
Baby Crying
Voice only
1999–present
SpongeBob SquarePants
Squilliam Fancyson
Bubble Bass
Fish #1, #2, and #3
Additional voices
Voice only
2000
Sonic Underground
Chomps the Dinosaur
Kar-lek Monster
Voice only
The Eddie Files
Assistant Director
Lost Cat
George Lieberman
Seymore
Voice only
2000–2001
Gotham Girls
TV Announcer
Bijou
Bongo
Voice only
2000–2003
Poochini's Yard
Billy White
Voice only
Harvey Birdman, Attorney at Law
Lizardman
Avenger
Foreman
Voice only
As Told by Ginger
Mr. Licorice
Stuart's Monkey
Emcee
Voice only
2000–2012
Family Guy
Hooded Monster
Klaus Heissler as Admiral Ackbar
Voice only
2001
My Freaky Family
Max
Voice only
Television film
Jason and the Heroes of Mount Olympus
Pan
Additiona Voices
Voice only
The Wild Thornberrys: The Origin of Donnie
Parrot 1 and 2
Voice only
Television film
No P in the O.O.L.
Numbah 4
Voice only
Television film
Time Squad
Local 2
Voice only
The Zeta Project
Dante
Voice only
2001–2002
What's with Andy?
Al Larkin
Jervis Coltrane
Martin Bonwick
Steve Rowgee Sr.
Mr. Hutchins
Voice only, First season only
2001–2007
The Grim Adventures of Billy & Mandy
Mandy's Dad
Alien
Alien Moonbeast
Voice only
2001–present
The Fairly Oddparents
Elmer
Sanjay
Binky
Voice only
2002
ChalkZone
Arvee
Card
Clown
Voice only
Jackie Chan Adventures
Kiang Chi
Lam's Assistant
Voice only
The Adventures of Jimmy Neutron: Boy Genius
Captain
Voice only
Invader Zim
Cutest Little Kid
Guy in Crowd
Santa Greg
Voice only
2002–2003
Whatever Happened to Robot Jones?
Extra Kids
Frame
Junior
Voice only
2002–2004
Totally Spies!
Lumiere
Willard
Wolves
Voice only
Samurai Jack
Ancient Mariner
Baby
Bully #1
Voice only
2002–2005
Justice League
Blockbuster
Cop
Older Mordred
Voice only
What's New, Scooby-Doo?
Flax
Announcer
Assistant Director
Voice only
2002–2008
Codename: Kids Next Door
Numbuh 4
Delightful Children From Down the Lane
Heinrich Von Marzipan
Numbuh 65.3
Tommy Gilligan
Joey Beatles
Bradley The Skunk
Mr. B
Toilenator
Mr. Fibb
Voice only
2003
Stuart Little
Voice only
Static Shock
Monster
Voice only
Free for All
Angus
Voice only
Dexter's Laboratory
Billy
Man #2
Store Owner
Voice only
Dora the Explorer
Animal Sound Effects
Voice only
2003–2004
Stripperella
Baby
Business Man
Ozzy
Voice only
Duck Dodgers
Alien Hunter
Attack Droids
Captain Richards
Voice only
2003–2005
Lilo & Stitch: The Series
David Kawena
Mewrin
Additional Voices
Voice only
2003–2006
Teen Titans
Cinderblock
Plasmus
Silkie
Gnarrk
Voice only
2004
The Jimmy Timmy Power Hour
Sanjay
Elmer
Fairy Agent #1
Voice only
Television film
Evil Con Carne
Alien
Condor
Native #2
Voice only
Megas XLR
Alien #1
Beast
Creatures
Voice only
2004–2006
Super Robot Monkey Team Hyperforce Go!
Dr. Maezono
Monster
Voice only
2004–2007
Danny Phantom
Prince Aragon
Mikey
Band Kid
Voice only
Higglytown Heroes
Pizza Guy
Uncle Zooter
Egg Farmer Hero
Voice only
2005
The Buzz on Maggie
Mort
Little Boy
Voice only
2005–2006
The X's
Rex
Dogs
Wild Boar
Voice only
The Life and Times of Juniper Lee
Derek
Dragon
Genie
Voice only
W.I.T.C.H.
Frost the Hunter
Gargoyle
Sniffer
Voice only
2005–2007
Loonatics Unleashed
Otto the Odd
Reporter
Voice only
American Dragon: Jake Long
Leprechaun Brocamas
Waiter
Baby Gryphon
Voice only
2005–2008
Avatar: The Last Airbender
Appa
Momo
Additional Voices
Voice only
2005–present
American Dad!
Klaus Heissler
Monopoly Hobo
Pillow Hands McGraw
Kisses
Additional Voices
Voice only
2006
Plastic Man in 'Puddle Trouble'
The Human Puddle
Voice only
Television short film
The Jimmy Timmy Power Hour 2: When Nerds Collide
Binky
Voice only
Television film
Fairly Oddparents in Fairy Idol
Security Guards
Binky Abdul
Fairy Reporters
Voice only
Television film
Codename: Kids Next Door – Operation: Z.E.R.O.
Wally 'Numbuh 4' Beatles
Mr. Fibb
Toilenator
Voice only
Television film
Hellboy: Sword of Storms
Lightning
Kappa
Voice only
Television film
2006–2009
The Replacements
Ace Palmero
Prince Cinnamon Boots
Herr Doofentanzer
Voice only
Mickey Mouse Clubhouse
Boo Boo Chicken
Santa Claus
Voice only
2006–2013
Handy Manny
Turner 'the Screwdriver'
Voice only
2007
The Emperor's New School
Voice only
Ben 10: Secret of the Omnitrix
Wildmutt
Eye Guy
Gluto
Voice only
Television film
The Grim Adventures of the KND
Numbuh 4
Delightful Children from Down the Lane
Voice only
Television film
Pooh's Super Sleuth Christmas Movie
Buster
Frost
Voice only
Television film
Ben 10: Race Against Time
Wildmutt
Voice only
Television film
2007–2008
Random! Cartoons
Audrey
Carrot
Dinosaur
Voice only
2007–2009
Back at the Barnyard
Bigfoot
Ryan Earcrust
Announcer
Voice only
My Friends Tigger & Pooh
Buster
Woodpecker
Voice only
2007–present
Phineas and Ferb
Perry the Platypus
Additional Voices
Voice only
2008
Chowder
Customer #2
Hat Customer
Rat
Voice only
Making Fiends
Pony
Voice only
2008–2009
Spaceballs: The Animated Series
Dark Helmet
Voice only
The Spectacular Spider-Man
Dr. Curt Connors/The Lizard
Homuncull
Voice only
2008–2010
Ben 10: Alien Force
All Ben's transformations
Voice only
2008–2011
The Mighty B!
Happy
Animatronic Scientist
Bear
Voice only
Batman: The Brave and the Bold
Clock King
Etrigan
Jason Blood
Brain
Voice only
2008–2013
Star Wars: The Clone Wars
Clone Troopers
Captain Rex
Commander Cody
Voice only
2009
Terminator Salvation: The Machinima Series
Additional male voices
Voice only
The Marvelous Misadventures of Flapjack
Cat
Fish Head Monster #1
Fish Head Monster #3
Voice only
The Goode Family
Che
Dr. Albright
Gutterball
Voice only
Ben 10: Alien Swarm
Big Chill
Humongousaur
Voice only
Television film
Curious George
Gnocchi
Juicy Jay
Voice only
2009–2010
Fanboy and Chum Chum
Mecha-Tech
Precious
Scampers
Voice only
The Secret Saturdays
Bunyips
Georgia Pigman
Honey Island Swamp Monster
Voice only
Jungle Junction
Lance
Voice only
2009–2012
The Penguins of Madagascar
Feral Marlene
Jiggles
Man
Voice only
2010
Hero Factory
Fire Lord
Voice only
Big Time Rush
Mr. Smitty
Live-action
2010–2011
Scooby-Doo! Mystery Incorporated
Franklin Fruitmeir
Headless Creature
Nerdy Boy
Voice only
The Superhero Squad Show
Annihilus
Devil Dinosaur
Voice only
Take Two with Phineas and Ferb
Perry the Platypus
Voice only
Generator Rex
Big Chill
Cannonbolt
Diamondhead
Voice only
2010–2012
Ben 10: Ultimate Alien
All Ben's transformations
Voice only
2010-2013
Young Justice
Wolf
Monsieur Mallah
Teekl
Desaad
Voice only
2010–present
Adventure Time
Bucket Knight
Chet
Cinnamon Bun
Additional Voices
Voice only
2011
Have a Laugh!
Stool (Thru the Mirror)
Voice only
The Looney Tunes Show
Additional Voices
Colonel Frankenheimer
Voice only
Secret Mountain Fort Awesome
Mutants
Various
Voice only
New Teen Titans
Silkie
Voice only
Night of the Hurricane
Klaus Heissler
Voice only
Shelf Life
Samurai Snake
Voice only
ThunderCats
Slythe
Kaynar
Ro-Bear-Bill
Voice only
2012
Ben 10: Destroy All Aliens
Cash
Way big
Stinkfly
Voice only
Television film
The Avengers: Earth's Mightiest Heroes
Mister Fantastic/Reed Richards
Voice only
Superman vs. The Elite
Atomic Skull
Voice only
Direct-to-video
2012–present
Randy Cunningham: 9th Grade Ninja
Julian
Voice only
The Legend of Korra
Tarrlok
Bumi (non-bender)
Naga
Pabu
Oogi
Additional Voices
Voice only
Gravity Falls
Waddles
Voice only
Ultimate Spider-Man
Sandman/Flint Marko
Lizard/Dr. Curt Connors (Season 2)
Carnage
Voice only
Kaijudo
Master Jaha
Arthur Underhill
Tareq
Vice Principal Spang
Sykes
Reef Prince Glu-urrgle
Milporo
Razorhide
Raging Goliant
Sharman Broccoli
Super Bazooka Volcanodon
Talking Totem
Voice only
2013
Doctor Lollipop
Rawr the Raptor
Big Bad Wolf
Voice only
Web-series
Bravoman: Super-Unequaled Hero of Excellence
Doctor Bomb
Anti-Bravo
Glooder
Himself
Additional voices
Voice only
Web-series
Hulk and the Agents of S.M.A.S.H.
Wendigo
Wendigo King
Voice only
Steven Universe
Frybo
Voice only
Uncle Grandpa
Mutants
Voice only
Talking Friends
Pierre
Additional voices
Video games
[
]
Year
Title
Role
Notes
1998
Baldur's Gate
Caldo
Garrick
Niklos
2000
Code Head
The Guy
Invictus: In the Shadow of Olympus
Alundra 2
Mephisto
Ratcliffe
Belgar
Ground Control
Deacon Stone
Squad Voice
Dropship Voice #1
Spider-Man
Carnage
Rhino
J. Jonah Jameson
The Lizard
Daredevil
Forgotten Realms: Baldur's Gate II - Shadows of Amn
Dawnbringer Sain
Nallabir
Ground Control: Dark Conspiracy
Deacon Stone
Units #9
2001
Who Wants to Be a Millionaire CD-ROM: 3rd Edition
Fallout Tactics: Brotherhood of Steel
The Mummy Returns
Rick O'Connell
Metal Gear Solid 2: Sons of Liberty
Navy SEAL
English dub
Spider-Man 2: Enter Electro
Electro
Hyper-Electro
Hammerhead
Dr. Curt Connors/The Lizard
The Beast
2002
The Powerpuff Girls: Relish Rampage
Male Child
Male Child 4
Monkey Man 1
Picklord Soldier 3
Robber 2
Spyro: Enter the Dragonfly
Additional Voices
Treasure Planet: Battle at Procyon
Arcturian Crew
Human Crew
Robot Crew
Soldier of Fortune II: Double Helix
Alex 'Skip' Larson
Kingdom Hearts
Wakka
Bloody Roar: Primal Fury
Uncredited
Metal Gear Solid 2: Substance
Navy SEAL
Star Trek: Starfleet Command III
Romulan Officer #2
Dark Cloud 2
King Marden
English dub
Uncredited
2003
Tenchu: Wrath of Heaven
English dub
Final Fantasy X-2
Lord Braska
Benzo
Ayde Ronso
English dub
Arc the Lad: Twilight of the Spirits
Densimo
Viewtiful Joe
Joe
English dub
Lionheart
Tales of Symphonia
Desian Guardian
English dub
Lionheart: Legacy of the Crusader
Extreme Skate Adventure
Hunter: The Reckoning: Wayward
Star Wars: Jedi Knight - Jedi Academy
Jedi 2
Reborn 2
Rockettrooper Officer
Nogrhi
The Haunted Mansion
Hunter: The Reckoning: Redeemer
SOCOM II: U.S. Navy SEALs
Euro Merc
The Hobbit
I-Ninja
Sensei
2004
Fallout: Brotherhood of Steel
Ching Tsun
Wasteland Man
City Ghoul Civilian
Champions of Norrath: Realms of EverQuest
Onimusha 3: Demon Siege
Takakatsu Heihachiro Honda (Heihachi)
Gargant
English dub
Onimusha Blade Warriors
Gogandantess
English dub
Doom 3
Additional Voices
Shellshock: Nam '67
Psycho
US Soldiers
Pilots
Prisoners #3
Call of Duty: United Offensive
Pvt. Koppel
German Voice
Shark Tale
X-Men Legends
Nightcrawler
Multiple Man
Mutant Prisoner
The Nightmare Before Christmas: Oogie's Revenge
Barrel
Clown with the Tear Away Face
Hanging Tree
EverQuest II
Generic Racial Callouts
Halo 2
Gravemind
Vampire: The Masquerade - Bloodlines
Bertram Tung
Viewtiful Joe 2
Joe
The Host of the Award
English dub
The Lord of the Rings: The Battle for Middle-earth
Orcs
Cattle
Gurumin: A Monstrous Adventure
Rocko
Digby
Puchi
English dub
2005
Codename: Kids Next Door – Operation: V.I.D.E.O.G.A.M.E.
Wallabee Beatles (Numbuh 4)
Delightful Children from Down the Lane
Samurai Western
Keeler
Kyril
Nathanael
English dub
Robots
Tim
Electroblast Inventor
ChoShop Guard
Ape Escape: On the Loose
Specter
Knight
Old Man
Child
English dub
Madagascar
Mort
Littly Boy
Destroy All Humans!
Chicken
Cow
Kingdom of Paradise
Gikyo
English dub
X-Men Legends II: Rise of Apocalypse
Nightcrawler
Viewtiful Joe: Red Hot Rumble
Joe
English dub
Tak: The Great Juju Challenge
Crug
Dark Juju
Teen Titans
Cinderblock
SpongeBob SquarePants: Lights, Camera, Pants!
Bubble Bass
Squilliam
Kevin C. Cucumber
2006
The Lord of the Rings: The Battle for Middle-earth II
Orcs
The Davinci Code
X-Men: The Official Game
Additional Voices
Avatar: The Last Airbender
Appa
Momo
Additional Voices
SpongeBob SquarePants: Creature from the Krusty Krab
Old Man Jenkins
English dub
Marvel: Ultimate Alliance
Nightcrawler
Gears of War
General RAAM
Locust Drone A
Theron Guard
Berserker
Happy Feet
Elephant Seal #2
2007
The Darkness
Insane Darkling
Halo 3
Gravemind
Avatar: The Last Airbender - The Burning Earth
Appa
Momo
Additional Voices
Jericho
Additional Voices
Cars Mater-National
Otto von Flasenbottom
No More Heroes
Letz Shake
Helter Skelter
Weller
2008
Avatar: The Last Airbender - Into the Inferno
Appa
Momo
Additional Voices
Ben 10: Alien Force
Big Chill
Chromastone
Echo Echo
De Blob
Inky
Blobs
Fallout 3
Dr. Braun
Gears of War 2
RAAM
Theron Guard
Locust Drone
Sires
SpongeBob SquarePants featuring Nicktoons: Globs of Doom
Old Hermit Crab
Bubble bass
Globulous Maximus
Spore
Creature vocal effects
2009
FusionFall
Numbuh 4
Toilenator
Echo Echo
G-Force
Mooch
Star Wars: The Clone Wars - Republic Heroes
Clone Troopers
Captain Rex
Clone Commanders
Cars Race-O-Rama
Ben 10 Alien Force: Vilgax Attacks
Big Chill
Brainstorm
Cannon Bolt
Star Wars The Force Unleashed: Ultimate Sith Edition
Boba Fett
Left 4 Dead 2
Infected (Spitter, Jockey, Charger)
2010
Dante's Inferno
Death
Tameable Rider
StarCraft II: Wings of Liberty
Additional Voices
Batman: The Brave and the Bold - The Videogame
Clock King
Copperhead
Ben 10 Ultimate Alien: Cosmic Destruction
Ampfibian
Armodrillo
Big Chill
Star Wars: The Force Unleashed II
Baron Tarko
Boba Fett
Rebel Soldier
Marvel Super Hero Squad: The Infinity Gauntlet
Annihilus
Computer
2011
Lego Star Wars III: The Clone Wars
Captain Rex
Commander Cody
Clone Troopers
Portal 2
Atlas
P-Body
Cartoon Network: Punch Time Explosion
Toilenator
Swampfire
Big Chill
Shadows of the Damned
Demons
Gears of War 3
Theron Guard
Locust Drone
Rage
Batman: Arkham City
Ra's al Ghul
Ben 10: Galactic Racing
Various Alien Characters
Star Wars: The Old Republic
Additional Voices
2012
Ben 10: Omniverse
Wildmutt
Stinkfly
Way Big
Big Chill
Lodestar
Nanomech
Water Hazard
NRG
Clockwork
Crashhopper
Diablo III
Various Creatures
World of Warcraft: Mists of Pandaria
Various Creatures
Kaijudo: Rise of the Duel Masters
Reef Prince Glu-urrgle
2013
Lego Marvel Super Heroes
Mr. Fantastic
Kingdom Hearts HD 1.5 Remix
Wakka (Archive footage)