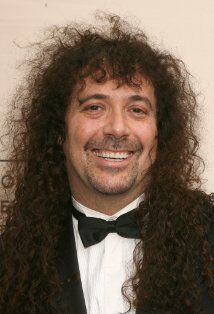 Jess Harnell (born December 23, 1963) is an American voice actor, (Named by Variety Magazine as one of the Top Ten in the business) and singer, best known for voicing Wakko Warner on Animaniacs and Ironhide in the Transformers film series. Harnell has also been the announcer for America's Funniest Home Videos since 1998.
As a musician, Harnell released his only solo album in 1995 called The Sound Of Your Voice. He is the lead vocalist in the highly acclaimed world's first Pop/Metal mashup rock band, Rock Sugar, which evolved from his previous band, Loud & Clear. With Loud & Clear or Rock Sugar, Harnell released four albums: 2003's Disc-Connected, 2007's self-titled demo album, 2008's Festival Of Fire, and 2010's Reimaginator. Rock Sugar has played on some of the biggest bills in the world, opening for such rock luminaries as AC/DC, Def Leppard, Linkin Park and Aerosmith.
Harnell started his career with minimal experience and has gone on to become one of the top voice actors in the industry, in addition to a successful career as a rock and session singer. A small sampling of his credits: In 1989, he provided the voices of Br'er Rabbit and Br'er Fox in the then-new Splash Mountain attraction at Disneyland Park, reviving the roles last played in 1946 by Johnny Lee and James Baskett, respectively, in the film Song of the South. Harnell also recorded some new character dialogue for the subsequent Walt Disney World version of the attraction. He was later called in to reprise these roles once again for the 2011 video game Kinect Disneyland Adventures.
In 1992, he went on to voice two of his most popular roles, Wakko Warner on Animaniacs and Secret Squirrel on 2 Stupid Dogs. From 1994 to 1996, he supplied the voices of Sewer Urchin, The Human Bullet and Chief Louder in the animated series The Tick.
Also in 1996, he was Hunter on Road Rovers. One of Harnell's next appearances was as the principal stormtrooper in the 1997 Star Wars fan film Troops, a parody of the Cops TV series set in the Star Wars universe. Harnell voiced Joe Tabootie on the Nickelodeon show ChalkZone, Tug on Firehouse Tales, Crash Bandicoot in Crash Tag Team Racing, Crash of the Titans, and Crash: Mind over Mutant, Lo-Lo in Crash Bandicoot: The Wrath of Cortex, Spyro the Dragon in Spyro: A Hero's Tail and Spyro: Shadow Legacy, Marlin in Finding Nemo (video game) Jerry in Totally Spies, Linguni in Pucca, and Doctor Finklestein in The Nightmare Before Christmas video game spin-offs, as well as in the Kingdom Hearts series replacing the late William Hickey who voiced him in the film. In 2005 he voiced Buzz Blister in Tom & Jerry: Blast off to Mars and numerous other characters in subsequent Tom & Jerry features. He also voiced wild and energetic Cro Magnon Doubledome from the Longhair and Doubledome cartoon shorts for Cartoon Network's Big Pick (also starring Daniel Davis as Longhair).
In 2001, he was the singing voice of Buster on Lady and the Tramp II: Scamp's Adventure. He also voiced Captain Hero on Comedy Central's animated comedy Drawn Together and he also does the voices of Wooton Bassett, and Bennett Charles on the radio drama Adventures in Odyssey, as well as playing the lead role of Finnian Jones for the Lamplighter Theatre Radio Drama. He also made appearances on Superhuman Samurai Syber-Squad. His voice also made an appearance in NASCAR Rumble, and is credited for in-game commentary in the follow-up game Rumble Racing. Jess also replaced Brad Garrett as the voice of Fatso during season 3 of The Spooktacular New Adventures of Casper. He also played a role in Samurai Jack as he voiced Ringo and a waitress in the episode "Jack Under the Sea". In 2007 he replaced Neil Flynn as the voice of The Plumber in Ratchet & Clank Future: Tools of Destruction and Ratchet & Clank Future: A Crack in Time. He also voiced the Smuggler in that popular series.
In that same year, he voiced the characters of Ironhide and Barricade in the Michael Bay-directed Transformers, making him the only voice actor to play both an Autobot (Ironhide) and a Decepticon (Barricade) in that film. He returned to voice Ironhide once again in Transformers: Revenge of the Fallen and Transformers: Dark of the Moon.
He voiced a character in the popular animated film Up;; and replaced Brad Garrett as the voice of Professor Buffo in Special Agent Oso.
Year
Title
Role
Notes
1988
Boulevard of Broken Dreams
Benny Dimase
1994
Yakko's World: An Animaniacs Singalong
Wakko Warner (voice)
(Direct-to-video)
Pom Poko
Gyobu (voice)
(1995 English dubb)
1995
Felidae
Additional Voices
(1996 English version)
Uncredited
Aladdin and the King of Thieves
(Direct-to-video)
1997
Casper: A Spirited Beginning
Fatso (voice)
(Direct-to-video)
1998
Quest for Camelot
Additional Voices
Casper Meets Wendy
Fatso (voice)
(Direct-to-video)
1998
A Bug's Life
Bus Beetle (voice)
1999
We Wish You a Merry Christmas
Santa
Man #1
Man #2
(Direct-to-video)
Our Friend, Martin
Reporter #1
Demonstrator
O' Christmas Tree
Man in House
Skunk
Santa
Wakko's Wish
Wakko Warner (voice)
Toy Story 2
Additional Voices
2000
Lion of Oz
Singer (voice)
Joseph: King of Dreams
Issachar
Lead Trader
(Direct-to-video)
The Life & Adventures of Santa Claus
Wagif Knook
Giant
Additional Voices
Little Nicky
Gary the Monster (voice)
The Emperor's New Groove
Additional Voices
2002
Tom and Jerry: The Magic Ring
Scooby-Doo
Creatures (voice)
Lilo & Stitch
Additional Voices
The Country Bears
Long-Haired Dude
2004
Comic Book: The Movie
Ricky
(Direct-to-video)
Also producer
Clifford's Really Big Movie
Dirk (voice)
Mickey, Donald, Goofy: The Three Musketeers
Major General (voice)
(Direct-to-video)
Kangaroo Jack: G'Day U.S.A.!
Dude #2 (voice)
2005
Racing Stripes
Additional Voices
Tom and Jerry: Blast Off to Mars
Major Buzz Blister
Martian General
Worker #3 (voice)
(Direct-to-video)
Tom and Jerry: The Fast and the Furry
Buzz Blister
Film Director
2006
Ice Age: The Meltdown
Additional Voices
Cars
Sven 'The Governator' (voice)
Asterix and the Vikings
Cacofonix (voice)
(English version)
The Wild
Additional Voices
Tales from Earthsea
Hazia Dealer
(English version)
2007
TMNT
Additional Voices
Surf's Up
Transformers
Ironhide
Barricade (voice)
Underdog
Astronaut (voice)
Jekyll
Guy #1
2008
Horton Hears a Who!
Another Who
Additional Voices
Dragon Hunters
Gildas (voice)
(English version)
WALL·E
Additional Voices
Space Chimps
Ponyo
(English version)
2009
Foster's Home for Imaginary Friends
Bloo superdude theme song Singer
Episode "The Bloo Superdude and the Great Creator of Everything's Awesome Ceremony of Fun That He's Not Invited To"
Igor
Announcer
Royal Guard #2
Up
Nurse AJ
Transformers: Revenge of the Fallen
Ironhide
Nominated - Golden Raspberry Award for Worst Screen Couple
Shared with Shia LaBeouf and either Megan Fox or any "Transformer"
The Haunted World of El Superbeasto
Uncle Carl
Cloudy with a Chance of Meatballs
Additional Voices
2010
Toy Story 3
Army Man (voice)
The Drawn Together Movie: The Movie!
Captain Hero
Tom and Jerry Meet Sherlock Holmes
Pan
Brett Jeremy
(Direct-to-video)
2011
Cars 2
Additional Voices
Transformers: Dark of the Moon
Ironhide (voice)
Nominated - Golden Raspberry Award for Worst Screen Ensemble
Shared with the entire cast
2012
The Lorax
Additional Voices
Wreck-It Ralph
Don (voice)
2013
Monsters University
Additional Voices
Despicable Me 2
Additional Voices
Year
Title
Role
Notes/Awards
1987
Throb
Member of The Playthings
Episode: "The Spa"
1990
Wake, Rattle & Roll
Droop-A-Long Coyote
Hardy Har Har
1991
Darkwing Duck
Additional Voices
1992
Camp Candy
Episode: "When It Rains... It Snows"
Goof Troop
Episode: "E=MC Goof"
1993
The Pink Panther
Episode: "Pilgrim Panther / That Old Pink Magic"
Teenage Mutant Ninja Turtles
Captain Zorax
Wolf Jaxon
Episode: "Night of the Dark Turtle"
Problem Child
Additional Voices
Bonkers
Toon Bomb
Charlie the Toon Pig
Heckler
Additional Voices
Episodes: "Color Me Piquel"
"Tune Pig"
"Fall Apart Bomb Squad"
"Going Bonkers"
"When the Spirit Moves You"
2 Stupid Dogs
Secret Squirrel
Scirocco Mole
1993-1995
Biker Mice from Mars
Evil Eye Weevil
Honka Lougie
Episodes: "Garbage Wars"
"Villain of the Year"
"Motocross Trap"
"Test of Friendship"
"We Don't Need No Stinkin' City"
1993-1998
Animaniacs
Wakko Warner
Walter Wolf
Alvey
Humphrey Bogart
Cabby
Additional Voices
All 99 Episodes
1994
Where on Earth Is Carmen Sandiego?
Additional Voices
Red Planet
The Legend of Prince Valiant
Episode: "The Gathering Storm"
Superhuman Samurai Syber-Squad
Man on Street
Radio Nerd
Rock n' Roll Virus
Episodes: "Loose Lips Sink Microchips"
"The Taunt Heard Round the World"
"Rock n' Roll Virucide"
Tiny Toon Spring Break Special
Michael Molten-Lava
Rank
Additional Voices
Television special
1995
Empty Nest
Vince
Episode: "Harry Weston: Man's Best Friend"
The Twisted Tales of Felix the Cat
Additional Voices
Timon & Pumbaa
Bugs
Episodes: "Rocky Mountain Lie/Amazon Quiver"
1995-1998
Pinky and the Brain
Additional Voices
1996
Fantastic Four
Impossible Man
Super-Skrull
Episode: "Hopelessly Impossible
Road Rovers
Hunter
Episodes: "Where Rovers Dare"
"A Hair of the Dog That Bit You"
"Let's Hit the Road"
Quack Pack
Additional Voice
Episode: "Recipe for Adventure"
1996-1998
The Spooktacular New Adventures of Casper
Fatso
1997
Rugrats
Guide
Singer
Voice
Episode: "Vacation"
Extreme Ghostbusters
Additional Voices
I Am Weasel
French Prime Minister
Workman
Episode: "This Bridge, Not Weasel Bridge"
The Weird Al Show
Dr. Legume
Episode: "One for the Record Books"
Jungle Cubs
Toucan
Episode: "Old Green Teeth/The Elephant Who Couldn't Say No"
Kyûketsuki Miyu
Takashi Kashiwabara
Episode: "The Red Shoe's"
1997-1998
Life with Louie
Additional Voices
Episodes: "Louie's Gate"
"Do It or Donut"
Recess
Micky McCloud
Episode: "Swing on Thru to the Other Side"
"Parents' Night"
"Yes, Mikey, Santa Does Shave: Part 1"
1998
Histeria!
Additional Voices
The Wild Thornberrys
Marsh Deer
Tortoise
Episode: "Vacant Lot"
1998-1999
The Secret Files of the Spy Dogs
William
Big Jim Jones
Frank Sir
Episodes: "Bone / Time"
"Escape / Exposed"
"DNA / Santa"
"Charlie / Automutt"
Mad Jack the Pirate
Snuck
Additional Voices
1999
The New Woody Woodpecker Show
Additional Voices
2000
Buzz Lightyear of Star Command
Bartender Heads
Clay
2001
The Simpsons
Pancho
Episode: "The Parent Rap"
The Drew Carey Show
Elvis Performer
Episode: "Drew and the King"
2001-2002
Horrible Histories
Darren Dongle
House of Mouse
Additional Voices
2001-2004
Totally Spies!
Jerry
Frankie Dude
Coach
2002-2004
ChalkZone
Joe Tabootie
Lars
Announcer
Additional Voices
2001-2007
The Grim Adventures of Billy & Mandy
Additional Voices
2002-2006
Codename: Kids Next Door
Ice Cream Man
Chef Pierre
Dr. Julious B. Sharp
Additional Voices
Episode: "Operation: I.-S.C.R.E.A.M./Operation: C.A.N.N.O.N."
"Operation B.R.E.A.K-U.P./Operation S.A.F.A.R.I."
"Operation C.A.N.Y.O.N./Operation H.O.L.I.D.A.Y."
"Operation C.A.K.E.D.-F.I.V.E."
"Operation C.L.O.W.N./Operation S.P.A.N.K.E.N.S.T.I.N.E."
2003
Clifford the Big Red Dog
Rexxington
Singing Dog
Episode: "Food for Thought/Friends Forever"
The Powerpuff Girls
Gnomey
Episode: "See Me, Feel Me, Gnomey"
2003-2005
Duck Dodgers
Tosh Gopher
Captain Peters
Puerco
Clifford's Puppy Days
Jorge
Jorje
Mr. Sidarsky
2004
What's New, Scooby-Doo?
Constable
Flute Player
Shane Flinty
Episode: "Large Dragon at Large"
The Fairly OddParents
Singer
Episode: "Shelf Life"
Higglytown Heroes
Higglyhune Chief
Episode: "Higgly Islands"
Evil Con Carne
Harv
Policeman
Radio Singer
Episode: "Gridlocked and Loaded/Fool's Paradise"
My Life as a Teenage Robot
Singer
Todd's Dad
Episode: "A Robot for All Seasons"
2004-2008
Drawn Together
Captain Hero
Additional Voices
2005
The Buzz on Maggie
Eugene
Wendell
Episodes: "The Science Whatchamacallit"
"King Flear"
"The Usual Insects"
Tripping the Rift
Captain Kirk
Episode: "Chode & Bobo's High School Reunion"
2006
Pet Alien
Gumpers
Swanky
Nominated - Daytime Emmy Award for Outstanding Performer in an Animated Program
My Gym Partner's a Monkey
Bear Kid
Crocodile
Episode: "Shark Attack/Me Adam, You Jake"
Catscratch
Mitchell the Mammoth
Episode: "A Woolly Adventure/Evil!"
2006-2007
Biker Mice from Mars
Ronaldo Rump
Dr. Catorkian
Bangers
Camembert
2006-2009
The Replacements
Donny Rottweiler
Additional Voices
2007
Random! Cartoons
Crank The Mall Security Guard
Episode: "Ratzafratz!"
The Land Before Time
Swooper
Episode: "The Hermit of Black Rock"
Kim Possible
The Mayor
Episodes: "Cap'n Drakken"
"Mathter and Fervent"
2007-2008
Chowder
Additional Voices
Episodes: "The Sing Beans/Certifrycation Class"
"The Broken Part/The Meach Harvest"
"The Fire Breather/The Flying Flinger Lingons"
2008-2010
Phineas and Ferb
Episodes: "Bowl-R-Ama Drama"
"Phineas and Ferb Hawaiian Vacation"
2008-2009
The Secret Saturdays
Piecemeal
Newscaster
Episodes: "Guess Who's Going to Be Dinner"
"Target: Fiskerton"
2009-2011
The Super Hero Squad Show
Odin
Hercules
Computer
Additional Voices
2009–2012
Jungle Junction
Taxicrab
2010
Kick Buttowski: Suburban Daredevil
Additional Voices
2010-2012
Special Agent Oso
Professor Buffo
2011–2013
The Cleveland Show
Tim
The Looney Tunes Show
Tosh Gopher
Additional Voices
2012
Doc McStuffins
Chilly, Buddy, and The Wicked King
Pound Puppies
Additional Voices
Episodes: "Lucky Gets Adopted"
"Zipper the Zoomit Dog"
Motorcity
Texas
2013-present
Sofia the First
Cedric the Sorcerer
Sir Gilliam
Woodsman
Additional Voices
Rick and Morty
Terry
Additional Voices
Episodes: "Lawnmower Dog"
"Anatomy Park"
2014
Gravity Falls
Additional Voices
2015-present
Crash Bandicoot
Crash Bandicoot
Year
Title
Role
Notes
1990
The Secret of Monkey Island
Bill Fettuccini
Estervan - the SCUMM Bar Pirate
Pirate Leader I
Store Keeper
Sword-Head Ghost
1994
Quest for Glory IV: Shadows of Darkness
Franz
1997
Clayfighter 63 1/3
Kung Pow
1999
Bugs Bunny: Lost in Time
Merlin 'Moyle' Munroe
2000
Star Wars Episode I: Jedi Power Battles
Jedi Knight Ki-Adi-Mundi
102 Dalmatians: Puppies to the Rescue
Additional Voices
Star Wars: Demolition
Darth Maul
Malakili
2001
Star Wars: Galactic Battlegrounds
Darth Maul
Gungan Bolo Trooper
Hannoon Soldier
Crash Bandicoot: The Wrath of Cortex
Lo-Lo, the Elemental mask of wind
Star Wars: Starfighter Special Edition
Ric Olié
Pirate Ground Forces
Rumble Racing
In-Game Commentator
2002
Star Wars: Racer Revenge
Darth Maul
Star Wars: Obi-Wan
Gran Thug
Ki-Adi-Mundi
Wounded Naboo Soldier
Kingdom Hearts
Dr. Finkelstein
Lock
(Engish version)
Star Wars: Jedi Knight II - Jedi Outcast
Mon Calomari Rogue Leader
Star Trek: Starfleet Command III
Additional Voices
2003
Finding Nemo
Marlin
Bruce
Star Wars: Knights of the Old Republic
Republic Soldier
Star Wars Jedi Knight: Jedi Academy
Gran
Trandoshan
2004
Hot Shots Golf Fore!
Allan
Regis
(English version)
Spyro: A Hero's Tail
Spyro the Dragon
Hunter the Cheetah
Moneybags the Bear
Sgt. Byrd the Penguin
Red
Astor
Magnus
Titan
Tomas
Additional Voices
The Nightmare Before Christmas: Oogie's Revenge
Dr. Finkelstein
2005
Robots
Rodney Copperbottom
Additional Voices
Crash Tag Team Racing
Crash Bandicoot
Kingdom Hearts II
Dr. Finkelstein
Lock
(Engish version)
2006
Ice Age 2: The Meltdown
Additional Voices
Over the Hedge
Vincent
King Rat
Police Chief
2007
Shrek the Third
Pirate Captain
Peasant Actor
Evil Knight 3
Kingdom Hearts II: Final Mix+
Dr. Finkelstein
Lock
(Engish version)
Biker Mice from Mars
Ronaldo Rump
Narrator
Goon
Ratchet & Clank Future: Tools of Destruction
Smuggler
Plumber
Parrot
2008
Ratchet & Clank Future: Quest for Booty
Crash: Mind Over Mutant
Crash Bandicoot
2009
Transformers: Revenge of the Fallen
Ironhide
Ratchet & Clank Future: A Crack in Time
Smuggler
Plumber
Battery Bot
2010
Marvel Super Hero Squad: The Infinity Gauntlet
Hercules
2011
Transformers: Dark of the Moon
Ironhide
Kinect Disneyland Adventures
Br'er Fox
Br'er Rabbit
2013
Skylanders: Swap Force
Blast Zone
Community content is available under
CC-BY-SA
unless otherwise noted.