Mom
Character Information
Gender
Female
Species
Human
Family
Cow
Chicken
Mom
Occupation
Househusband
Production Information
Voice Actor
Candi Milo

Ann Hjort (Denmark)
Overview
[
]
Mom is, as her name suggests, the biological mother of Cow and Chicken. Like Dad, only her legs and waist are shown on screen.
Appearance
[
]
Her appearance is like the stereotypical housewife. She wears a white dress with red polka-dots and a yellow apron.
In an episode where her thorn is uncovered, she is shown to have short blond hair and has long eyelashes and red lipstick.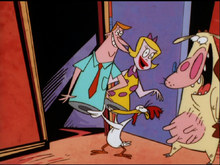 Personality
[
]
She is a housewife that prepares strange food for her family and gives advice in the same way to her children. Also like her husband, appears to be insane. She tends to be sensitive as he is occasionally.