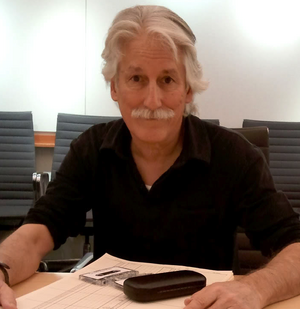 Robert Alvarez is an American animator, director, storyboard artist and writer. He attended Notre Dame High School in Sherman Oaks, California from 1962 to 1966. He has a Bachelor of Fine Arts degree in animation from the Chouinard Art Institute (now the California Institute of the Arts), which he completed in 1971. [1] Alvarez began his career as an assistant animator for the 1968 film Yellow Submarine. Since then, he has worked on many animated television series, including Super Friends, The Smurfs, G.I. Joe: A Real American Hero, A Pup Named Scooby-Doo, Dexter's Laboratory, The Powerpuff Girls, Samurai Jack and Regular Show. He also created and wrote two animated pilots, Pizza Boy in "No Tip" and Tumbleweed Tex in "School Daze", for Hanna-Barbera's cartoon shorts showcase What a Cartoon! in 1996.
Alvarez has received 5 Primetime Emmy Awards, 9 Primetime Emmy Award nominations, and 1 Daytime Emmy Award nomination. His first nomination came in 1994 in the category Outstanding Animated Program (for Programming One Hour or Less) for directing The Town Santa Forgot.[2] In 2000 and 2001, he received two more nominations for his work on The Powerpuff Girls, also receiving one in 2004 for the Powerpuff Girls special 'Twas the Fight Before Christmas.[3][4] Alvarez won two Primetime Emmys for his work on the Genndy Tartakovsky series Star Wars: Clone Wars and a third for Samurai Jack.[5][6][7] In 2006, he garnered one nomination for Foster's Home for Imaginary Friends and another for the My Life as a Teenage Robot special "Escape from Cluster Prime".[8][9] One more Foster's nomination followed in 2007 for the episode "Good Wilt Hunting" before he would win a Primetime Emmy for the show, which was for the special "Destination: Imagination" in 2009.[10][11] In 2010, he was nominated for the animated short Uncle Grandpa in the category Outstanding Short-format Animated Program. Alvarez received a Primetime Emmy award for Regular Show in 2012, which he also was nominated for in 2011.[12] His Daytime Emmy nomination was in 2007 for The Grim Adventures of Billy and Mandy in the category Outstanding Broadband Program — Children's.[13]
Year

Season

Episode Title

Original Air Date

1997

Season 1

"Field Trip to Folsom Prison"
July 15, 1997
"The Girls Bathroom"
July 15, 1997
"Supermodel Cow"
July 22, 1997
"Part Time Job"
July 22, 1997
"Confused"
August 5, 1997
"Crash Dive!"
August 19, 1997
"Happy Meat"
August 19, 1997
"Orthodontic Police"
September 2, 1997
"The Cow with Four Eyes"
September 2, 1997
"Space Cow"
September 30, 1997
"Headhunting in Oregon"
October 7, 1997
"The King & Queen of Cheese"
October 7, 1997
"I Am Weasel: I, Architect"
October 7, 1997

1998

Season 2

"Buffalo Gals"
February 24, 1998
"Cow and Chicken Reclining"
February 24, 1998
Animation Director Credits
[
edit
|
edit source
]
Community content is available under
CC-BY-SA
unless otherwise noted.